T

here are many skincare brands out there who are stepping out of the shadows and talking about sustainability. However, there is one company that truly is making an impact on the world and putting their heart into saving the planet.

Earth to Earth Organics has taken this a step further and instead of just publishing an ambling manifesto as some companies are doing, they have put their money where their mouth is by developing a brand that has sustainability at the heart of everything it does. That's why they will be joining us for the BRC Leaders Summer School this year, to share their passion and leave their mark on our delegates.

We had the absolute pleasure of sitting down with the founders, Danny and Tenesia, to talk about their plans for the programme and what they're looking forward to most.
Let's start with an introduction to you, Earth to Earth's origin story, and why you do what you do? 
I moved to England from Guyana and because we're quite a tropical country, my skin was really impacted by the change in climate, and I had uncomfortably dry skin. After a while of going to the GP and trying all these different creams, like, everything you can think of, my skin just wasn't getting better. 

After a while, speaking to my Nan and different friends, I thought, all right, let me just figure out how to do something myself I started to think about what remedies we used in Guyana, everything was pure and natural we used coconut oil and crab oil from the Amazon, two of the best skin healing oils. I started with coconut oil, but it wasn't enough. I went down a beautiful rabbit hole and discovered cocoa butter, Shea butter, safflower oil, grape seed oil, beeswax etc… over the years the ingredients changed, the method changed, and my lifestyle choices changed. Our Body Butter helped my skin so much that I didn't need anything else, it's truly magic.
Where did you go from there? How did the business aspect begin to form?
I started gifting our products to friends at first and then after a while, it turned into a bit of a hobby that I really enjoyed. It was then that I convinced Danny to start using them and I thought, yes!

I was still in the hobby phase but at the time the name Earth Organics came to me along with a few other names, I sent them to some friends to help me choose one and that was it, Earth to Earth Organics was born. I registered the name in 2016 just in case but we just kept it on the side and continued to focus on perfecting our formula. 

We entered Harrow Business Den, came away with the award and launched Earth to Earth Organics in March 2018. That's why even though we registered the business in 2016 we only count the years running as an actual business from 2018.
Simultaneously Danny and I were on a journey to having a plant-based lifestyle. After we were married in 2014, we had a complete overhaul of our thoughts and feelings towards our health, our planet, and animals.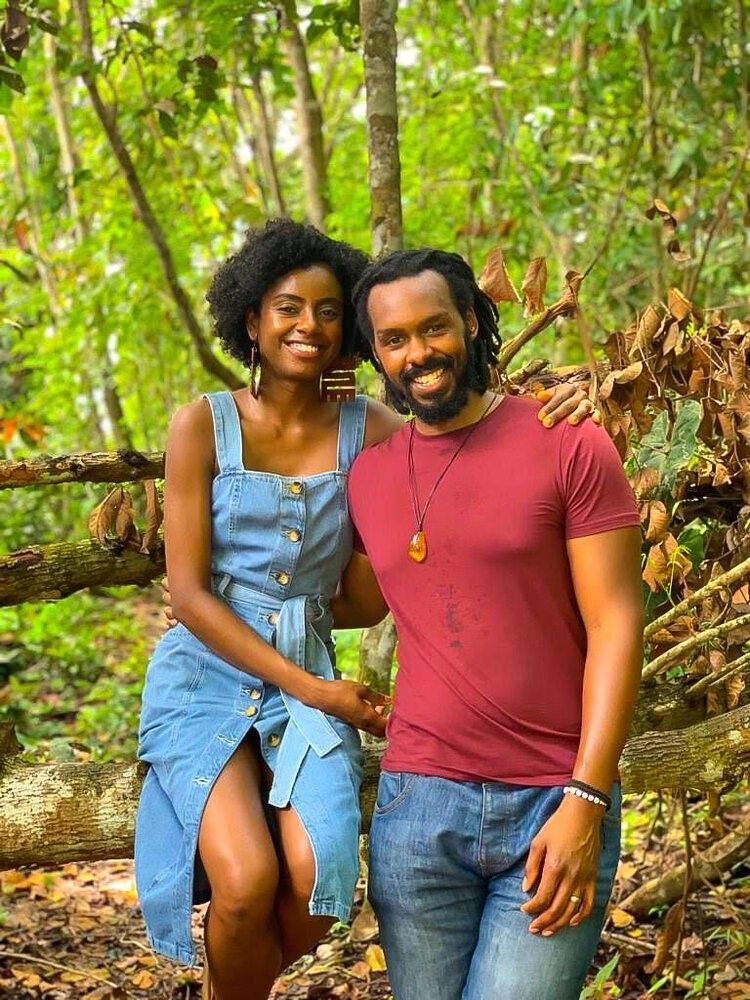 "Simultaneously Danny and I were on a journey to having a plant-based lifestyle. After we were married in 2014, we had a complete overhaul of our thoughts and feelings towards our health, our planet, and animals. "
What was the next step in becoming the Earth-to-Earth Organics brand we know today? 
Simultaneously Danny and I were on a journey to having a plant-based lifestyle. After we were married in 2014, we had a complete overhaul of our thoughts and feelings towards our health, our planet, and animals. 

We started growing our own food, so this is where the brand Organics evolved, and our lifestyle became the same thing as the brand. It was like the universe knew what it was doing when the name came to us. And since then, we've just been more eco-friendly with our personal lives; we moved to Bedfordshire, we're always going for walks and all that sort of thing. It's really become this whole holistic view of lifestyle and brand. More natural, purer, and just bringing our customers on that journey. For instance, this summer, we'll be doing foraging, walks and things with our customers and they get connected. 

That leads on nicely to how do plan to impact the BRC Leaders' Summer School delegates and their thinking on the programme?
Our goal is to have delegates, and anyone who is willing to listen really, thinking more deeply about our connection between the Earth and business. It's right where the four lenses meet: purpose, people, profit, and planet.

We feel like there's a disconnect between businesses when it comes to their impact on the planet and actually how that does in fact impact their own profit. Businesses would be doing themselves a disservice by not looking after the planet because effectively if you can't grow your ingredients, then you don't have a business. This is especially clear in our industry where all our natural ingredients come from the Earth. If we deplete the soil or do any type of mass long term damage to it, then it would impact on our business.

When you consider the long term, you're really investing in the long-term effects on your business as well as on the planet. It's fitting that we're included in the 'Bridging the Gap' expo because we're trying to bridge the gap with regards to the connection from soil to profit. 
What are you looking forward to most at the BRC Leaders Summer School? What have you got in store for the delegates attending?
We're going to do something that we call 'grow with us'. It's the third year we've done this because as we've already mentioned, we grow our own food, so we've started to integrate that into our business for our customers. Taking place between January and March with every order that we receive we send out seed packs to our customers with their growing instructions to encourage them to grow their own food and get out in the garden. 

Whether you've got an allotment or even just a windowsill, we want to encourage our customers to gain a deeper connection to the Earth and how long it does take to actually just grow something that a lot of us take for granted. We're going to bring that demonstration to our stand where we will get delegates hands dirty, literally! 
That sounds incredible! What thoughts, feelings, takeaways would you like the delegates to leave with at the end of the experience? 
It's everything we've just been speaking about, where you want people to go away feeling some sense of responsibility with the decisions that they make. We've both worked in industries and positions where you can see on the ground when people aren't being mindful. 

It's also not just businesses - if they're an employee and they're not being as mindful about small actions that they might be making it can make a huge impact. It might be that they're making them because one, they might not know enough or two, because it's not coming from the top down to stringently implement some of those changes. It's kind of just ticking down into people's minds that everybody has a part to play. It doesn't matter how small your role is as a business, everybody has a part to play for the overall impact. That's what we're trying to get people to think about. Their impact makes a difference. Your individual impact makes a difference.
What attracted you to the BRC Leaders' Summer School? What were you most excited about when you heard about it? 
We first got involved with BRC two years ago through our mentor, and it was initially about being closer to the decision making of the overall retail industry and how we can have an impact. We can have our say about this industry of people and businesses that can make such a big difference. 

With regards to the BRC Leaders' Summer School, it was the four lenses that really spoke to us, in particularly: Planet, Profit and Purpose. It's kind of saying to yourself, if you're not in business for these reasons then what's it all for. 

I'd also add that we're really excited about influencing change because the programme attracts such an eclectic mix of people, from mindful thinking to spiritual to economy. It's really nice to hear and be in the room with those different conversations. It lets us see how the bigger companies really think, because as much as we've previously worked for some big companies, you're not necessarily privy to what everybody thinks, what those key stakeholders are saying and what they're trying to implement. 

It's just a nice space to be in, to be where people are trying to impact change and I think that's the beautiful thing about it. Everyone is coming together for the greater! 
Never miss our news.
Subscribe to our newsletter!
Sign up to the BRC Newsletter today!
Sign up to receive our latest news and business thinking direct to your inbox.
By completing this form you agree to the BRC processing your data in accordance with our privacy policy, you can unsubscribe at any time.
Who should attend the Summer School?
The Summer School is split into two cohorts - Emerging Leaders and Transforming Leaders. The Emerging Leaders programme is aimed at those either new to a leadership role or identified as having high potential to step into a leadership role within the next 12-18 months. In addition, we have a number of delegates attend who are from support functions as the course helps to develop self-awareness and understanding of the wider retail industry. The Transforming Leaders programme is aimed at established, evolving retail leaders and support managers, those already in a leadership role with a proven track record of experience and influence. We believe that leadership is something that everyone can do and is not necessarily limited to those who have people management responsibility. It is also useful to accept that many may be in differing places on their leadership journey and will benefit from different development opportunities.
How and when is the programme delivered?
Our 2022 Summer School will be a blended approach, starting on the 8th June 2022 with a 3-day residential programme followed by weekly sessions (2-3 hours) which will involve a mix of live virtual plenaries, group work and specific content release via our learning platform. The School will culminate in a final 2 day residential from the 27th to 28th July 2022 where learners will regroup, reflect, and focus on the future.
What is unique or different about this programme?
The Summer School will provide an unrivalled deep dive into the four megatrends of People, Profit, Purpose and Planet through thought leadership, social learning, and self-led modular content. Supported by experts, retailers and organisations that will stretch delegates thinking by looking outside of what they 'think' they know, bringing insight and foresight back to the organisation. The blend of residential and virtual over the course of the 8 weeks provides attendees the opportunity to put into practice what they are learning and explore this within the safety of their groups during the programme. Our course will bring to life the lenses, developing truly conscious leaders within retail for now and the future. There is no other programme like the Leaders' Summer School!
Where is the residential?
We are proud that our residential home for 2022 will be Ashridge House Estate in Berkhamsted, Hertfordshire. With the changes in the School being more future focused and inclusive it is important to us that our residential home reflects similar values.
What is the price of the programme and do you offer any discounts?
Our earlybird offer has now closed. The standard price for BRC Members starts from £3,225 for the Emerging Leaders Programme and £3,350 for the Transforming Leaders Programme. This is variable dependent BRC Membership. Group and individual discounts may be applied by discretion with our Head of Leadership Programmes, please contact vicki.young@brc.org.uk to explore this further.
What does the cost of the programme include?

The cost includes all accommodation and food for the duration of the residential elements of the course (8th to 10th June 2022 and 27th to 28th July 2022). Any additional soft or alcoholic drinks required during the residential element are to be paid for by delegates, some will be provided with the evening meals. Please note that Ashridge is a cashless venue and any purchases outside of the core offering should be settled immediately with the venue.
Is parking available onsite?
There is plenty of parking available however we are conscious of our own carbon footprint and would encourage delegates to either car share or arrive by train to Berkhamsted station. A free shuttle bus will be available to take delegates to the venue on the day of arrival and departure, timetable is below.
What time do delegates need to be at the residential for?
Arrival to the first residential will be between 8am – 10am, giving delegates enough time to check in and familiarise themselves, the School will formally start at 10.30am. Departure will be from 3.00pm on the 10th June. For the second residential the arrival time will be the same on the 27th July but the departure time will be from 4.30pm on the 28th July.
What if delegates cannot attend both residentials?
The residential elements are integral to the social learning element of the programme and therefore attendance is required at both. We do however recognise that there may be circumstances that arise which will impact their ability to attend, contingency measures will be put in place in this scenario, and we will record live sessions for delegates to watch. We cannot recreate the atmosphere and additional experience that they would no doubt benefit from being in the face-to-face learning environment.The residential elements are integral to the social learning element of the programme and therefore attendance is required at both. We do however recognise that there may be circumstances that arise which will impact their ability to attend, contingency measures will be put in place in this scenario, and we will record live sessions for delegates to watch. We cannot recreate the atmosphere and additional experience that they would no doubt benefit from being in the face-to-face learning environment.
Is the programme accredited?
You will be awarded a digital badge to recognise your participation in the programme which you can display on your website, CV or social media account. The badge will be available to download upon completion of the programme.
How long will the course take to complete/what is mandatory?
As with any blended learning opportunity commitment and engagement from delegates are what makes the learning happen. All content should be completed within the 8 weeks of the programme. Delegates will be expected to access all live events (or watch recordings) and access on demand content as it is released. There will be a project, or simulator, which will take place alongside the programme for each cohort.
What is a Group Coaching session?
Each delegate will be assigned to a coaching group made up of 8-10 learners and facilitated by a Group Coach, these sessions are essential to benefit from the social learning element of the programme. The relationship of the group with start to form at the residential and this will build as the course progresses, sessions will be arranged around the live virtual elements of the programme providing the groups with the opportunity to reflect on what they have heard, discuss, debate, and explore within a safe environment. The Group Coach is there to support in facilitating, coaching and being an independent confidante to delegates to nurture their learning.
It sounds like a big commitment, how much time will it take each week?
Across the duration of the school, we anticipate that each learner will need to assign 3-4 hours per week to either a live event, group coach sessions, module work and self-reflection which would be on a Wednesday afternoon.
Is there a final assessment?
There is no final assessment and no pass or fail. However, delegates will be expected to commit to a continuing personal development plan at the end of the School. This will include how they will apply learning back into their organisation and a review against their initial learning intentions. As part of the project or simulator delegates will receive final feedback on their submissions and position against other groups at the end of the programme.
How do you measure the results of the learning?
There will be a golden thread of "how can I apply this learning and how will it impact me, my team and my organisation." This will be supported by a self-assessment tool completed by the learner at the start of the school, the tool has been built specifically for the programme using neuroscience and aims to dig beneath the surface of the conscious leader to bypass their individual bias. The results will continue to grow and evolve as delegates take their learnings back to the workplace and assess these against their original learning intentions.
Will delegates have access to a coach or mentor?
All delegates will be part of a coaching group for the length of the schools where they will be supported by a 'group coach.' Delegates and their sending organisations will be encouraged to identify an inhouse sponsor/mentor who can support the application of delegates learning back into their workplace.
Is there any pre-work ahead of the start of the School?
In the weeks leading up to the residential delegates will be sent their joining instructions. This will include a link to the Learning Platform which will be the main source of information for the duration, they will also be sent some pre-recorded videos to help set their mindset for the School - thought provoking views on the future of retail and some insights into what they can expect from the course. They will also be asked to complete a self-diagnostic development tool which will support their learning journey and personal growth in conscious leadership.
How are you ensuring diversity at the School?
One of our primary values is inclusion, by being inclusive and allowing delegates, contributors, and guests to be their authentic selves will help to increase the diversity of all attendees. We encourage all organisations to consider when nominating delegates to ensure that their attendees are a representation of their workforce, and that an open and inclusive approach has been taken to selecting them.
Will you be offering any scholarships?
We are in the process of developing a number of social spaces on the course aimed at independent businesses, not for profit organisations and underrepresented groups to apply for a scholarship space on the school. Our scholarship scheme will cover the costs of learning, but a minimal cost will apply for the residential programme. For further information please contact
vicki.young@brc.org.uk
.